Full Weekend PRE-REGISTRATION for SacAnime Summer 2018.

February 12, 2018 – April 1, 2018: $31
April 2, 2018 – June 3, 2018: $36
June 4, 2018 – August 5, 2018: $41
August 6, 2018 – August 26, 2018: $46
Friday or Sunday PRE-REGISTRATION for SacAnime Summer 2018.

February 12, 2018 – April 1, 2018: $16
April 2, 2018 – June 3, 2018: $21
June 4, 2018 – August 26, 2018: $26
Saturday PRE-REGISTRATION for SacAnime Summer 2018.

February 12, 2018 – April 1, 2018: $26
April 2, 2018 – June 3, 2018: $31
June 4, 2018 – August 5, 2018: $36
August 6, 2018 – August 26, 2018: $41
---
AT-THE-DOOR REGISTRATION:
(Admission to the show)
You may register at any time during the convention itself. The registration area is located at the Sheraton Grand, in the Magnolia Ballroom. (Downstairs from the lobby.) The registration room opens at 8am, Friday January 5th. We will also have early registration on Thursday January 4th from 4pm – 10pm. Cash or Credit Cards Accepted.
Friday Only: $30.00
Saturday Only: $45.00
Saturday Night Only (after 7pm): $20.00
Sunday Only: $30.00
Sunday Exhibitor Room Only: $20.00
Full Weekend: $50.00
As always, there is no charge for children 8 years old or younger when accompanied by a registered adult.
---
SOME THINGS TO KNOW:
We do not mail out tickets. Once you purchase your tickets, you will be emailed a confirmation receipt. At the bottom of the email is a link that states 'Print Your Tickets'. You will need to print your tickets and bring them with you to the show.
If you pre-register and don't receive a confirmation email with a print your ticket link within several minutes of purchase, contact our customer service department.
We will not be accepting online Pre-Registration after August 12th, 2018
We do not offer refunds.
Tickets can be redeemed by anyone. You do not need SacAnime to transfer the name on the ticket.
Questions please email customer.service@sacanime.com.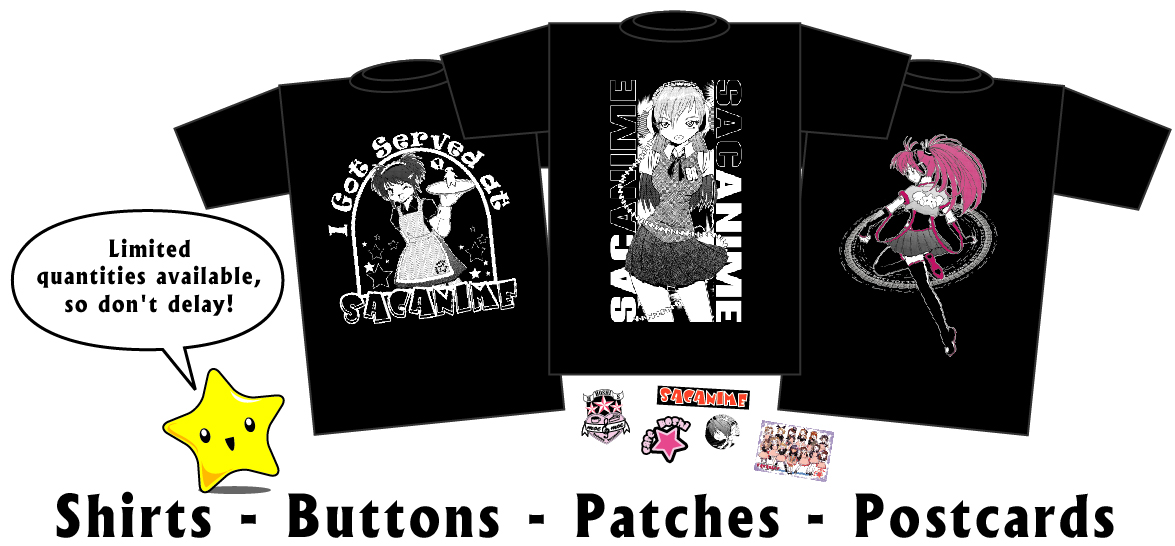 SacAnime items will be available at the merchandise table while supplies last. Arrive early for the best size selection!